What is a Single Property Website?
A single property website is a  website dedicated to showcasing one specific property for sale. It's designed to highlight the features, benefits, and uniqueness of the property, and to attract more attention and inquiries from potential buyers.
"Creating a landing page or single property website for your home for sale is a smart move. It's a personalized, professional, and powerful way to market your home. It can help buyers learn more about your house, see all the photos and videos, and contact you easily. "
~ Lew Corcoran
Single property websites typically include beautiful photography, video walk-throughs, 3D virtual tours, floor plans, maps, neighborhood information, and contact details of the listing agent. They also have a custom domain name that reflects the address or name of the property, such as www.123MainStreet.com or www.TheLakeHouse.com.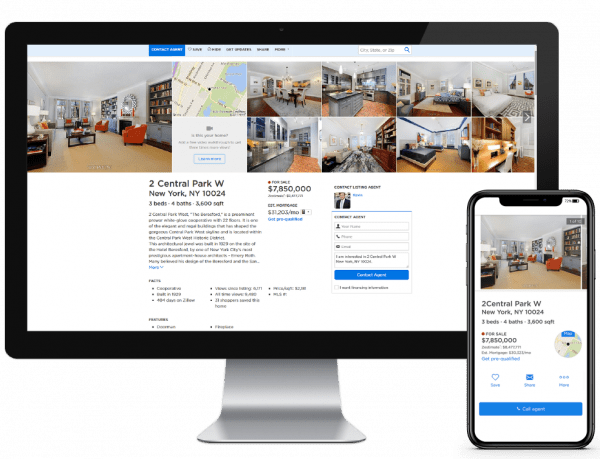 Why Choose a Single Property Website?
Single property websites offer many advantages for home sellers and listing agents, such as:
Creating a wow factor and a memorable impression on potential buyers
Providing more information and details than standard MLS listings or Zillow pages
Enhancing the online presence and visibility of the property
Generating more leads and inquiries from interested buyers
Showing professionalism and commitment to the seller
Standing out from the competition and selling faster and for more money
According to research by Realtor.com, homes with single property websites receive 36% more views than homes without them. Moreover, 92% of home buyers use the internet as their primary source of information when looking for a home.
How do Single Property Websites Work?
Single property websites work by creating a dedicated online platform for showcasing a property and marketing it to potential buyers. They can be created using various tools and services that offer templates, features, and hosting options for single property websites.
Some of the best tools and services for creating single property websites are:
Rela: Rela offers gorgeous single property website templates that work perfectly for luxury listings and impressing homeowners. Rela also offers listing agents and brokerages great features like an easy-to-use site builder, CRM, integrated Facebook ads, lead forms, 3D tours, lead routing, videos, and basic analytics. You can also connect Zoom, Facebook Live, and Google Hangouts to the site for virtual open houses.
Listings Unlimited: Listings Unlimited has a lot to offer agents and brokers who need single property websites in bulk. Listings Unlimited allows you to create unlimited single property websites with unlimited photos, videos, 3D tours, lead capture forms, social media integration, text messaging codes, printable flyers, QR codes, and more. You can also syndicate your listings to major real estate portals like Zillow, Trulia, Realtor.com, etc.
Cribflyer: Cribflyer is an affordable and easy-to-use option for creating single property websites. Cribflyer lets you choose from dozens of modern and responsive templates that you can customize with your own branding, colors, fonts, etc. You can also add photos, videos, 3D tours, maps, floor plans, neighborhood information, etc. Cribflyer also provides analytics, lead capture forms, social media sharing buttons, printable flyers, etc.
How to Get Started with a Single Property Website?
If you're interested in getting a single property website for your home, you can contact me today to schedule a free consultation. I have a team of experienced and professional web designers who can help you create stunning single property websites that will showcase your property in its best light. I also offer a free single property website checklist and a photo prep sheet that you can download from my website. Just visit the resources page. Don't miss this opportunity to make your properties stand out from the competition and sell faster and for more money!
---
Helping You Realize Maximum Results from Your Listings!
Let me help you get the most from the sale of your house!